In the battle royale game "My Hero Ultra Rumble", you step into the shoes of popular anime heroes and villains from My Hero Academia. Eight teams of three players each compete against each other, using both items and upgrades on the battlefield to successfully assert themselves against opposing teams. You can find all characters with their specific roles in our tier list ranking for My Hero Ultra Rumble.
Overview of All Heroes and Villains
Here you will find all 18 characters from My Hero Ultra Rumble sorted by their archetype in the game.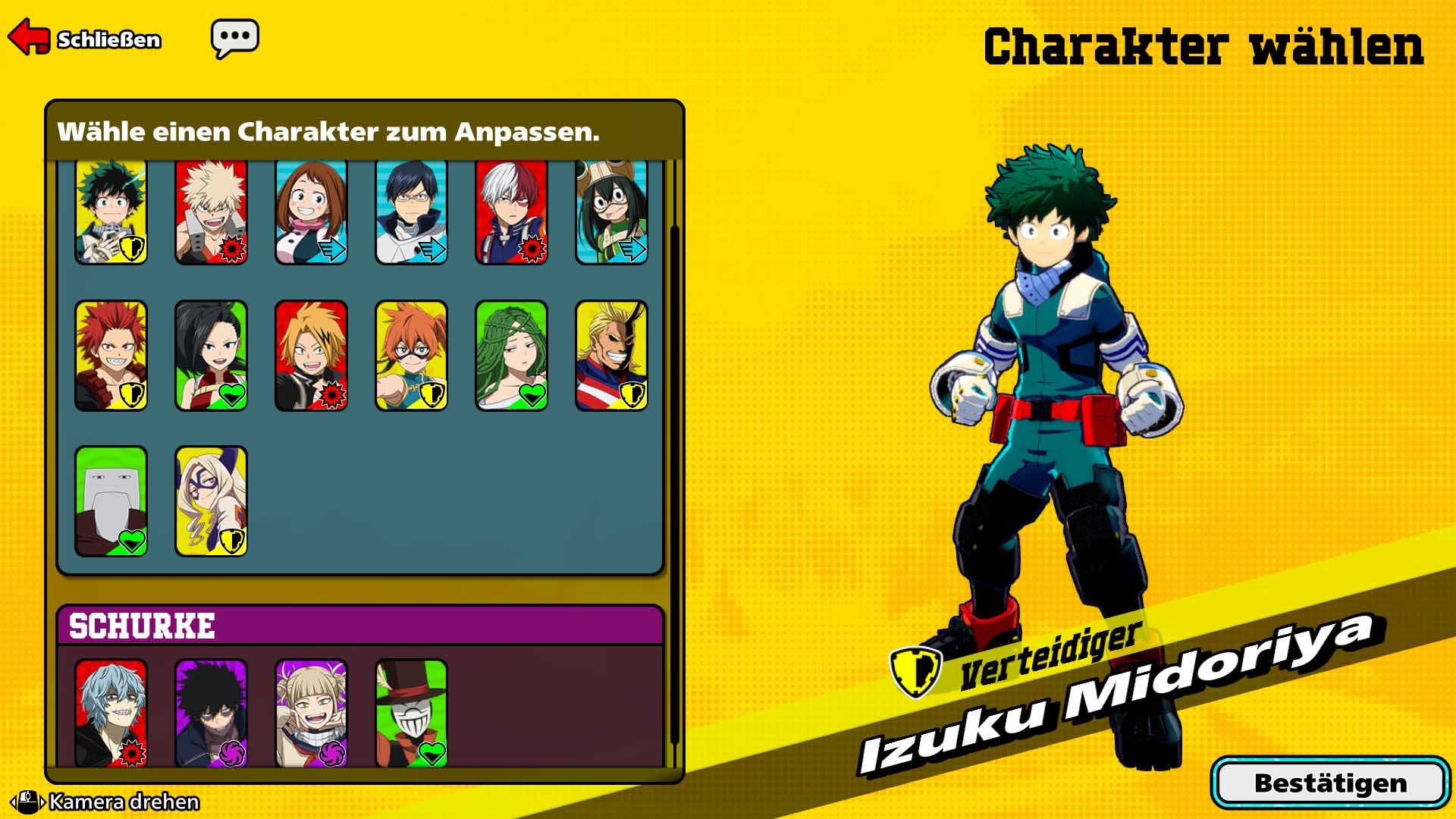 Hero Overview in My Hero Ultra Rumble
Athlete
Ochako Uraraka
Tenya Ida
Tsuyu Asui
Striker
Denki Kaminari
Katsuki Bakugo
Shoto Todoroki
Tomura Shigaraki (Villain)
Trickster
Dabi (Villain)
Himiko Toga (Villain)
Supporter
Ibara Shiozaki
Momo Yaoyorozu
Mr. Compress (Villain)
Cementoss
Defender
Izuku Midoriya
Eijiro Kirishima
Itsuka Kendo
All Might
Mt. Lady
Tier List: Ranking of All Heroes and Villains
When creating our ranking, we considered the strengths and weaknesses of the different characters and compared them. For example, Shoto landed in the A-Tier because Katsuki has the edge with his better mobility. However, our classification doesn't necessarily mean that Shoto deals less damage or would automatically lose a direct fight against Katsuki.
In our ranking, we include the balancing changes from the update on October 12th.
S-Tier: The Best Heroes in My Hero Ultra Rumble
Katsuki Bakugo
Izuku Midoriya
Ibara Shiozaki
Tenya Ida
Himiko Toga
A-Tier
All Might
Shoto Todoroki
Tsuyu Asui
Dabi
Cementoss
B-Tier
Denki Kaminari
Ochako Uraraka
Momo Yaoyorozu
Mt. Lady
C-Tier
Itsuka Kendo
Tomura Shigaraki
D-Tier
Eijiro Kirishima
Mr. Compress
My Hero Ultra Rumble: Unlocking All Characters
There are different ways to unlock new characters in My Hero Ultra Rumble. In total, there are 18 characters in the game – six are available to you from the start: Izuku Midoriya, Ochako Uraraka, Cementoss, Mt. Lady, Tomura Shigaraki, and Dabi. Denki Kaminari, Itsuka Kendo, and Tenya Ida can be obtained using character tickets.
You can get these tickets in the shop and also via in-game mail upon the game's release. If you want to buy them in the shop, click on Standard | Hero Essence. You can redeem the character tickets on the respective hero in the overview under the menu item "Play".
You can get six more champs through the Season Pass when you reach the respective rank. All you need to do is be active in the game and collect license experience points or alternatively purchase them with the premium currency. A fully leveled pass will cost you about 45,000 hero crystals (equivalent to approximately 80 euros).
Katsuki Bakugo: Rank 2
Shoto Todoroki: Rank 3
Tsuyu Asui: Rank 7
Mr. Compress: Rank 13
Himiko Toga: Rank 15
All Might: Rank 30
Eijiro Kirishima, Momo Yaoyorozu, and Ibara Shiozaki are the last three missing characters. You can only get them through loot boxes under the menu item "Surprise" – in the game, this is called the Plus-Ultra Surprise. Each hero has a low chance of 0.533 percent to be contained in a box. On average, you would need to open about 200 boxes to get a hero.
(Visited 341 times, 2 visits today)
Last modified: 17. October 2023